News Source: Geo News
The seven-year-old was reportedly raped multiple times and then murdered – in what is being reported as the 12th gruesome incident of child abuse to have hit Kasur in the last one year.
Police said the minor, a resident of Rod Kot area of Kasur, was kidnapped on her way to a tuition centre on January 4. Her body was found in a garbage pile near Kashmir Chowk on January 9.
Politicians, celebrities and sportsmen took to social media to condemn the incident and demanded justice.
Nobel Peace prize winner and activist for girls right to education, Malala Yousafzai demanded that the government take action.
Heartbroken to hear about Zainab – a 7 year old child abused and brutally killed in Kasur, Pakistan. This has to stop. Gov and the concerned authorities must take action. #JusticeForZainab

— Malala (@Malala) January 10, 2018

Pakistan Peoples Party chairman Bilawal Bhutto Zardari expressed his sympathies and solidarity with the bereaved family and demanded that Pakistan re-evaluate how it deals with such horrific crimes, specially against children.
The horrific crime perpetrated in Kasur is devastating. Pakistan needs to reevaluate how it deals with such crimes, especially those against children. My prayers and heartfelt sympathies with the family. We must all stand with victims of abuse. https://t.co/YLEmW5sBXU

— BilawalBhuttoZardari (@BBhuttoZardari) January 10, 2018

Pakistan Tehreek-e-Insaf (PTI) chairman Imran Khan condemned the incident and pointed how unsafe children were in our society.
PML-N leader Maryam Nawaz Sharif demanded exemplary punishment.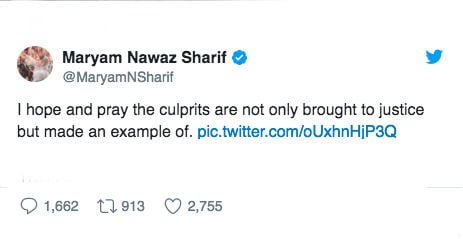 Punjab Chief Minister Shehbaz Sharif said he will not rest till the perpetrators are brought to justice.
Deeply pained about murder of a 8-year old girl in a child molestation case. Those societies that cannot protect its children are eternally condemned. Not going to rest till the perpetrators of this dastardly act are apprehended & given severest possible punishment under the law

— Shehbaz Sharif (@CMShehbaz) January 10, 2018
Just presided over a meeting of police & administration officials. Made it absolutely clear to them that lip service would not work. I want the culprits involved in this heinous crime behind the bars. Those failing in their duties will be proceeded against. Very painful incident! https://t.co/FFSBbNhtrr

— Shehbaz Sharif (@CMShehbaz) January 10, 2018
Actress Mahira Khan demanded that the culprit(s) be handed exemplary punishment for the crime.
Find him!!! Do what it takes to find him and make an example out of him for Gods sake !! An example which scares anyone to even think about doing something like this again. @pid_gov @GovtOfPunjab #JusticeForZainab https://t.co/t0GTUo9AjT

— Mahira Khan (@TheMahiraKhan) January 10, 2018

Mawra Hocane expressed her shock at the incident.
Ya Allah is qadar Zulm or Jahalat! We should truly truly be ashamed of ourselves as a Nation. What's the point for #JusticeForZainab when there are countless Rape & Murder cases in line for justice? @pid_gov @GovtOfPunjab Devastated!

— MAWRA HOCANE (@MawraHocane) January 10, 2018

Actress Hareem Farooq took to Twitter to express her grief.
Fahad Mustafa also expressed his grief on social media:
Feel sorry for you mera bacha.
Justice has to be served this time.
May Allah rest your soul in peace. Ameen#JusticeForZainab

— Fahad Mustafa (@fahadmustafa26) January 10, 2018
Cricketers grieved the brutal rape and murder. Wahab Riaz prayed for patience for the ill-fated parents of the girl.
Former skipper Wasim Akram said we all felt sorry for Zainab, ashamed and gutted.
I am really lost for words…. seven year old Zainab we all feel sorry for you, we all feel ashamed, we all are gutted…. hope those animals who disrespected are caught and hanged!#JusticeForZainab

— Wasim Akram (@wasimakramlive) January 10, 2018
"I am heart broken, gutted and disgusted what sort of society we r living in.. heart goes out to the parents… #JusticeForZainab," tweeted Mohammad Amir.
Renowned cricketer Shahid Afridi also shared his views.
Shocked, Disgusted and feeling sick to the core! What a shameful day for us, Zainab's killers must not only be hanged, they should be given such exemplary punishment that people should remember the lessson for ever. Pakistan rulers we're waiting for action!

— Shahid Afridi (@SAfridiOfficial) January 10, 2018
"Being a Father just can't imagine the pain of parents after this, condolences to her parents & alarming situation to society we r living in.. Govt should do prompt action against the culprit & give justice to ZAINAB," Mohammad Hafeez shared.
Junaid Khan called for political issues to be set aside and asked everyone to join hands to find a solution to prevent such crimes.
Shadab Khan tweeted:
Children are Allah's greatest gift. They stand for everything good in humanity, Zainab's tragedy is humanity's tragedy. Deeply saddened by it, can't even imagine what her family is going through. We must speak up, justice has to prevail. #JusticeforZainab

— Shadab Khan (@76Shadabkhan) January 10, 2018
Najam Sethi tweeted:
#JusticeForZainab If CM SS cant string up the monsters who violated Zainab, CJ LHC must provide swift justice.

— Najam Sethi (@najamsethi) January 10, 2018
Cricketer Azhar Ali tweeted: