News Source: Geo News
RAWALPINDI: The Director General of Inter-Services Public Relations (ISPR) Major General Asif Ghafoor Monday pointed to growing negative propaganda on social media against Pakistan and its institutions, including the army.
Addressing a press conference earlier today, Major General Ghafoor said the social media was being used against the country and its institutions and that there had been an increase in troll social media accounts which were spewing anti-Pakistan and anti-army content against the facts.
"We have the capability to monitor social media as to who is doing what," the DG ISPR said.
He said that domestic accounts on social media grew in recent months, which had been involved in "anti-state, anti-Pakistan, anti-army, anti-forces" activities.
He informed that since January this year, more than 10,000 troll social media accounts had cropped up and such accounts had particularly increased in numbers over the past four months.
This network of troll accounts is being operated by a few people who tweet and retweet content against Pakistan, the army and security forces, he said, adding that relevant authorities have been alerted to probe these accounts.
Maj Gen Ghafoor said that this was how social media was being used to create "ripples" among masses.
Urging the people to demonstrate "responsibility" in use of social networking platforms, the DG ISPR said, "We have to stay united, we have to defeat them."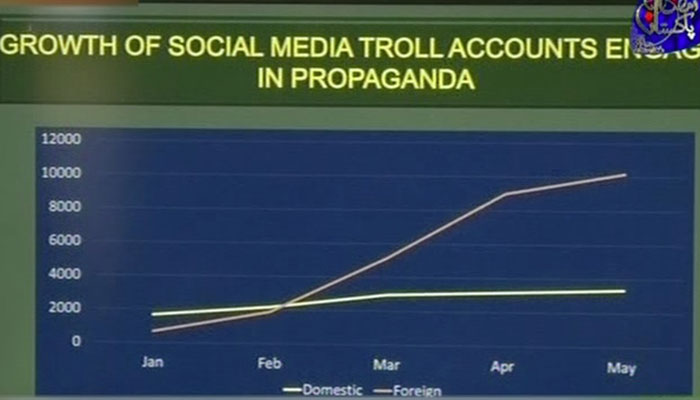 The DG ISPR warned that if not controlled wisely, the false propaganda on social media could become dangerous. He expressed concern that such troll accounts could pose a lethal threat to the young generation of the country.
"This social media is not a threat as of now, but we have to control this thing first of all through awareness," he said, requesting the masses to control it on their level.